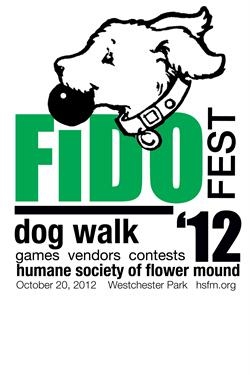 https://www.firstgiving.com/fundraiser/jennyfroh/fidofest2012
As you may know, in my "spare" time I am a foster for the Humane Society of Flower Mound. Fostering animals is one of the most rewarding things I have ever done…I get to play with new cats and dogs all the time and also have the satisfaction of knowing that I helped save their lives. It's the best feeling in the world to see an animal in its new, loving home and know that I played a part in sending it there.
Many of the cats and dogs I foster come to us sick or injured. The veterinary care for those animals can cost hundreds or even thousands of dollars, very little of which is recovered in the adoption fee. This year at Fido Fest, I'll be walking to help pay for the care of Trooper, a dog that I fostered this year. Trooper was came in off the streets of Dallas and is a Distemper survivor. He came to me with an upper respiratory infection, worms, and a permanent twitch (due to the Distemper). He is now healthy and in a loving, forever home thanks to the Humane Society of Flower Mound. Trooper's care cost HSFM $550 and his adoption fee was $175.
I know not everyone has the time, space, and energy to be a foster home for animals in need…but you can help me help more animals like Trooper by sponsoring me at Fido Fest! Thank you for whatever amount you can give…Trooper and I appreciate it!
https://www.firstgiving.com/fundraiser/jennyfroh/fidofest2012